All-round bike for off-road and road, for travelling and sport, for everyday life and madness: our new Paripa SUV (sport utility velo). In the city, cobblestones and tram tracks are no longer a problem, in the countryside you are safe even on sandy tracks. All kinds of mudguards and pannier racks can be easily fitted. Modern road bike standards such as thru axles and flat-mount disc brakes meet forged "middle age" fork crowns and space for extremely wide tyres. You want to drive a suv? There it is!
Technische Spezifikationen
Rahmenhöhen: 48, 52, 55, 58, 61cm (Mitte Tretlager bis Oberkante Oberrohr gemessen).
Rohrsatz: 25CrMo4 Stahl, Hauptrohre doppelt konifiziert, Unterrohr verstärkt, WIG geschweißt, geschmiedeter Gabelkopf mit eingelöteten Gabelbeinen
Ausfallenden: Reynolds Edelstahl, 12x142mm Steckachse (im Lieferumfang enthalten) mit austauschbaren Inlets aus Aluminium
Bremsen: Flatmount Scheibenbremsaufnahmen max. 160mm Scheibendurchmesser
Anlötteile: Ösen für Schutzbleche am Vorder- und Hinterrad, Gepäckträger vorn & hinten, drei Flaschenhalter. Schaltsockel am Unterrohr für Schalthebel oder Gegenhalter. 4mm Löcher in Unterrohr und Hinterbaustrebe links für die Verlegung von Lichtkabel im Rahmen.
Sattelrohrdurchmesser: 27.2mm
Sattelklemmschelle: 30.0mm Alu (im Lieferumfang enthalten)
Steuerrohrdurchmesser: 1 1/8 Zoll Ahead
Durchmesser der Umwerferschelle: 28.6mm
Tretlager: 68mm BSA 1.37˝ x 24t
Reifenfreiheit: ca. 54-584mm / 42-622mm mit Schutzblechen und 57-584 / 50-622mm ohne Schutzbleche, abhängig vom Reifenhersteller und Felgenbreite, sowie Reifenprofil.
Gabel: 25CrMo4 CroMo gelötet mit geschmiedetem Gabelkopf und 12x100mm Ausfallenden für Steckachsen. Ösen für Schutzblech, Low Rider, Front-Gepäckträger und Gravel Cages, sowie Lichtkabel-Verlegung. 55mm Gabelvorbiegung.
Die Rahmen-Sets sind in jeder RAL-Classic Farbe erhältlich.
Rahmengeometrie Paripa SUV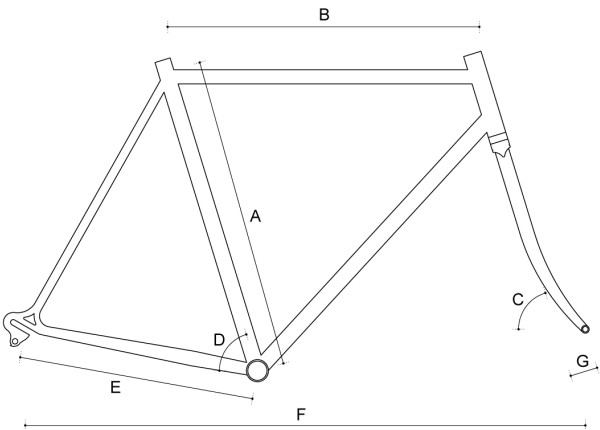 | | | | | | |
| --- | --- | --- | --- | --- | --- |
| A: Rahmenhöhe | 480 | 520 | 550 | 580 | 610 |
| B: Oberrohrlänge | 531 | 540 | 560 | 580 | 610 |
| Reach | 369 | 376 | 380 | 391 | 408 |
| Stack | 546 | 557 | 584 | 613 | 640 |
| C: Steuerrohrwinkel | 70,5° | 71,0° | 72,0° | 72,5° | 73,0° |
| D: Sattelrohrwinkel | 74,0° | 73,0° | 72,5° | 72,0° | 72,0° |
| E: Kettenstreben | 445 | 445 | 445 | 445 | 445 |
| F: Radstand | 1037 | 1043 | 1046 | 1056 | 1075 |
| Überstandshöhe bei 55-584mm Bereifung | 759 | 784 | 810 | 839 | 866 |
| G: Gabelvorbiegung | 55 | 55 | 55 | 55 | 55 |